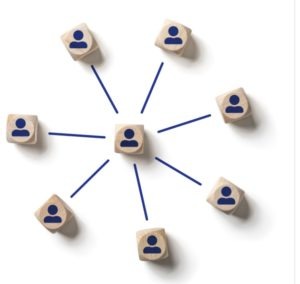 Here we go again! Networking in the time of COVID-19…
We are in this really weird space in time when people are out looking for jobs but one of the major drivers of building pathways to a new position is shaken up.
Thanks, COVID-19.
Networking in the time of COVID-19 has taken a hit, and changed how networking can happen.
Or has it?
For the ebb and flow of being able to meet face-to-face to lockdowns, it's an ever-changing roadmap that job seekers have to navigate.
Certainly, nothing can change that lucky happenstance of bumping into someone at a networking event and striking up a conversation that takes a meaningful turn.
But humans, fortunately, are resilient, and where there is an opportunity lost, new ones are created, especially when it comes to networking in the time of COVID-19.
Here are 10 ways for you to keep your networking game on-point while navigating around restricted in-person meetings:
Take advantage of trade association virtual networking events.
Many industry trade associations have switched over from previously in-person chapter events to virtual events to promote networking in the time of COVID-19.
Some even have platforms for networking events that is something akin to "speed dating" where you get to meet random fellow members, which can bring about surprising and delightful connections and sharing.
Really dig into LinkedIn.
So, you built your LinkedIn profile and update it regularly. But are you really focusing on digging in to LinkedIn's amazing networking power?
It requires you to identify companies that you are interested in, then use the search function on LinkedIn to look up that company.
Once you have their profile up, then investigate who you know that works there. Don't know anyone directly? That's where 2nd and 3rd– degree connections come in.
Ask your 1st-degree connection for a mutual introduction to get the ball rolling. Warm introductions ALWAYS make a difference.
But if you don't have that going for you, then be brave and reach out directly.
Another thing you can do to network is participate in LinkedIn groups and forums. You can ask or answer questions, or comment, and this can create opportunities to connect with other like-minded people.
Remember, it is who you know that can pave the way to the next job opportunity.
Participate in online educational events
Many industry associations have online educational events and if it is set up on the video platform, you can see who else is attending.
Make a note of their names, and if it is a participatory event, you might have the opportunity to connect with someone else then extend that networking contact over to LinkedIn to continue the dialogue.
This can also help you with networking in the time of COVID-19.
Focus on your digital footprint
To be seen is to be known. Make sure what you are putting out there is robust and is on-brand to who you are and what you do.
People have gotten pretty sophisticated and can easily detect those that are there who are simply just "using" people versus someone who has established a reputable online footprint.
Update your profiles and fill out all the fields for whichever platform you are using regularly. Then curate your content so "the lights are on and someone is home" to improve your opportunities for networking in the time of COVID-19.
Fearlessly leverage personal connections
For introverts, this can send a shiver down their spine. But if you are serious about a job search, you will need to swallow any fear and ask your friends for help.
Think about it this way: Who do you know? People. Who those people know? People!
Spin your networking web bigger, and you will likely snare a networking contact that will lead to your next role!
Be gracious and thankful as part of your networking brand
Kindness, gratitude, authenticity, and being humble are magic elixirs in attracting people to you. We are naturally drawn to people with whom we have an authentic connection.
Mindfully treat and react to people, and more importantly, THANK THEM for anything they do on your behalf is critical when you are networking in the time of COVID-19.
Tap into your networking tool box
Networking is more than a single event. It requires a coordinated effort that in effect, is the same thing as building a long-term relationship and ongoing dialogue.
Reach out to contacts via a personal handwritten note, send articles of interest to your contact, tag them on posts that mention them, or reach out via phone calls.
When you mix with other people who are also forward-thinking, new opportunities and new connections arise. Conversations get started, and ideas shared, especially as these forums and comments have risen in importance for networking in the time of COVID-19.
Follow industry experts, and you will see what others are saying and then contribute to the discussion, which by extension of this method, adds more power to your networking.
Renew your existing contacts
Go through your LinkedIn contacts and see which people you've interacted with recently, and identify others that you haven't.
Networking in the time of COVID-19 means this is a good time restart those dormant conversations and get onto people's radar screens. If you aren't the squeaky wheel, you won't get noticed when it comes to job opportunities!
Virtual coffee meetings via Zoom + coffee gift card
Since COVID-19 has made face-to-face coffee meetings a bit tricky, send a prospective contact a coffee card for $5 to buy them a cup of coffee, along with a video meeting request.
It's not perfect, but for now the best replacement for those in-person networking meetings. The coffee card is a nice touch, too.
Keep these tips in mind for networking in the time of COVID-19, and you'll continue to make progress towards your career goals.